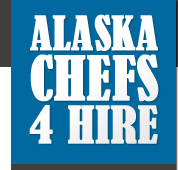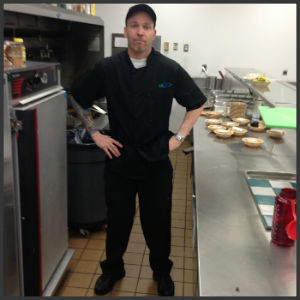 Alaska is America's last frontier. The land of Jack London remains a wild, untamed place where hard working men and women struggle to conquer nature to harvest some of the greatest resources our country has to offer.  The conditions may be poor, but that doesn't mean the food has to be. Alaska Chefs 4 Hire works hard to provide delicious, nutritious meals to make the work these men and women do possible.

I've had a passion for cooking since I was a child, a passion that I've maintained throughout my over 27 years as a chef. That passion for cooking is reflected in every aspect of our company. Throughout my career I've worked at restaurants and resorts all over the United States, cooking fine cuisine in Scottsdale, sushi in LA and many different cuisines in between.  Despite my experience nothing prepared me for the challenges of cooking in Alaska.  From preparing meals for over eighty people out of a trailer in Craig or cooking pancakes in the rain on an outdoor grill in Valdez there were always new and unforeseen challenges. What drove me and drives me today, are the smiles and thank yous from the staff after putting in a sixteen hour day in those conditions to produce great food.
My partner has been in the restaurant business his entire life, owning and running restaurants in both Washington and Alaska.  About seven years ago he started contracting kitchens, taking on SIlverbay Seafoods, SPC Seafoods and the Alaska State Troopers as his first clients.  Three years ago we met and the rest is history. He pushes me to set higher standards and to refuse to compromise no matter where we're cooking. Our philosophy is simple: the very best workers deserve the very best food.

Just because it's Alaska doesn't mean people have to eat road kill. We strive to work just as hard as our diners to give them the food they need to do their jobs well.




If you want to endure the headaches of hiring your own staff, ordering your own food, planning your own menus and waking up at 3AM when the cook doesn't show then don't hire us.

If you're ready to hand over your food services to a professional, dedicated team that delivers the best food possible cost effectively then we'll be expecting your call.

Customer Testimonials
"Their staff is professional and the food is outstanding. They give us the food service program we've been wanting for our staff. I highly recommend them."
Jeff Pearson, SPC Seafoods (Sitka, AK))

"Our staff has never been happier. No complaints at all from staff and in a fish plant that's highly unusual and appreciated. Their cooks go above and beyond to do their job. We would not use anyone else."
North Pacific Seafoods (Sitka, AK)
Alaska Chefs 4 Hire PO BOX 686, Sitka, AK 99835 | (602) 739-0684
© 2011 Alaska Chefs 4 Hire, All Rights Reserved